Jim Muri chomped on his unlit Chesterfield cigarette and steered his Martin Marauder B-26 bomber towards the Japanese carrier Akagi — flagship of probably the largest naval fleet in world history. It was just after 7:05 a.m on June 4, 1942, Day One of the Battle of Midway.
Flying barely 10 feet above the Pacific Ocean, Muri jammed the throttle and worked the control yoke as he positioned his plane for attack. He prepared to launch the torpedo on its belly — an accurate hit would severely damage or perhaps sink the Akagi. He also tried to keep tabs on his a crew; several members, notably John Gojoj, Earl Ashley and Frank Melo, had been wounded by enemy gunfire and shattered Plexiglass. Japanese Zero fighter planes pounded Muri's airship, the "Susie-Q," a nickname it shared with his wife of six months, Alice.
It was a desperate hour but one that brought heroism. Muri's actions helped repel the Japanese attackers, which turned the tide in the Pacific Theater of World War II. Muri and his crew went on to earn the Distinguished Service Cross, the nation's second-highest military honor, for their feat.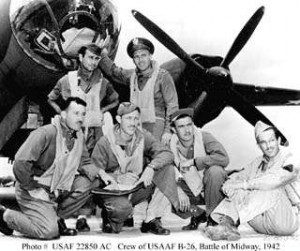 Seventy-five years later, unanswered questions include: what influences led the Eastern Montana son of a cattle rancher and farmer, raised in Depression-era hardship, to become an aviator? And how did the harrowing experience affect Muri, who was 23 then and lived to age 94? How did it affect his relations with others, especially his family?
---
Muri's heroics came at a cost.
"I do believe the Battle of Midway was his moment of fame," said his daughter Sylvia Sadaati during an interview in January 2017 — four years after the death of her father.
"It was also his undoing," she said of the aftermath to Muri's flight.
Sadaati explained the toll her father's heroics took on his family: her slightly older brother, also named Jim, could never quite measure up to his father's greatness in athletics, academics and combat; their mother, Alice, who undoubtedly felt the effects of her husband's survival in the Midway crucible; and Sadaati, the couple's other child, who remembers her views being given short shrift in conversations with her father.
(Jim Muri's death was noted in various media outlets across the country, including the New York Times and in the newspaper based in what became his hometown in later life, the Billings Gazette.)
©Treasure State Heritage Press